President
ORDER OF SONS OF ITALY IN AMERICA
Central Bucks / Benjamin J. Ventresca Lodge 2271



Gina Toth Becker
Vice President
Regina Creedon
Past President
Michael Toth Jr.
Orator
Fred Prozzillo
Financial Secretary
Recording Secretary
Bernadette Prozzillo
Trustees
Rick Fulginiti
Treasurer
Michael Creedon Sr.
Matthew Hallowell
Sandra Panuccio
Guard
Anthony Brescia
Historian
Editor
Michael Nastasi
Marie Brescia
Mistress of Ceremony
Virginia Yencha
CALENDAR
Carole Toth
mhbresc1@verizon.net
215-348-9598
Marie Brescia
James Stabilito

.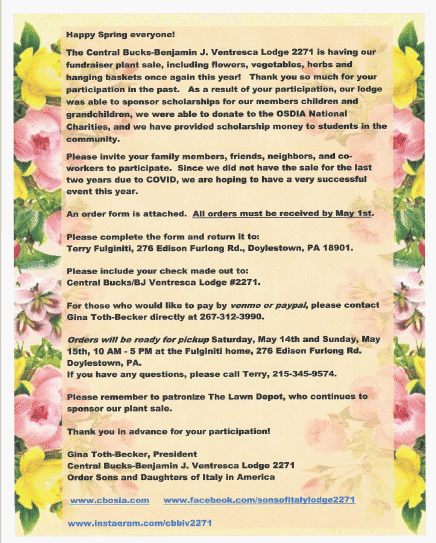 PASTA DINNER
The benefit Pasta Dinner will be held at the American Legion Hall, 315 North St., Doylestown from 1:00 - 4:00 P.M. on Sunday, April 7th. The sucess of this event is up to you, our members. Have you invited family and friends to attend? Please call Carole Toth (267) 222-8252 with your numbers so that we have a count for the chefs!
Before we know it, mid-May will be here; and it will be time to start planting! Our plant sale includes a fantastic selection of annual flowering plants, herbs, vegetables and hanging baskets. We hope everyone will participate. Please invite your family, friends and neighbors to purchase plants!
If you are unable to get the order into the mail on time, just call Terry (215-345-9574) to place your order, and you can pay at pick up time. Or you can email your order to: fulginitit@gmail.com.
Plants will be available for pick up on Saturday, May 4th, after 12 noon, at 276 Edison Furlong Rd., Doylestown. Please call Terry at (215-345-9574) or Rick (215-262-5446) to let us know when you will be coming to pick up your plants. If you are unable to pick up the plants, we will deliver!
Apr. 7 - Pasta Dinner - American Legion Hall 1:00 - 4:00 P.M.
Apr. 21 - Happy Easter
May ?? - Longwood Gardens Trip - To be determined
Jun. 1-3 - O.S.I.A. State Convention
Jun. 15 - Steak in the Park - Central Park 5:00 - 8:00 P.M.
Jul. ?? - "Cabaret" - To be determined
Aug. 17 - Picnic in the Park - Central Park - 1:00 - 4:00 P.M.
PLANT SALE
ORDER FORM:
Please send your order form and check, payable to CB/BJ Ventresca Lodge #2271, by April 24th, to: Terry Fulginiti 276 Edison Furlong Rd. Doylestown, PA 18901