President
ORDER OF SONS OF ITALY IN AMERICA
Central Bucks / Benjamin J. Ventresca Lodge 2271



Gina Toth Becker
Vice President
Regina Creedon
Past President
Michael Toth Jr.
Orator
Fred Prozzillo
Financial Secretary
Recording Secretary
Bernadette Prozzillo
Trustees
Rick Fulginiti
Treasurer
Michael Creedon Sr.
Matthew Hallowell
Sandra Panuccio
Guard
Anthony Brescia
Historian
Editor
Michael Nastasi
Marie Brescia
Mistress of Ceremony
Virginia Yencha
CALENDAR
Carole Toth
mhbresc1@verizon.net
215-348-9598
Marie Brescia
James Stabilito

FEB. 10 - January Membership Meeting - Bertucci's Montgomeryville Mall
FEB. 14 - Valentines Day
FEB. 18 - President's Day
April 7 - Pasta Dinner - Doylestown American Legion
FEBRUARY MEMBERSHIP MEETING
Our February Membership Meeting will be held on Sunday February 10, 2019 at 1:00 P.M. at Bertucci's Restaurant, 804 Bethlehem Pike, Montgomeryville, PA. Dinner choice will be off the menu. Please call Sister Carole Toth (267) 222-8252 so that we know the number attending, and in case of a cancellation due to bad weather. Plans for the new year will be discussed.
DUES INFORMATION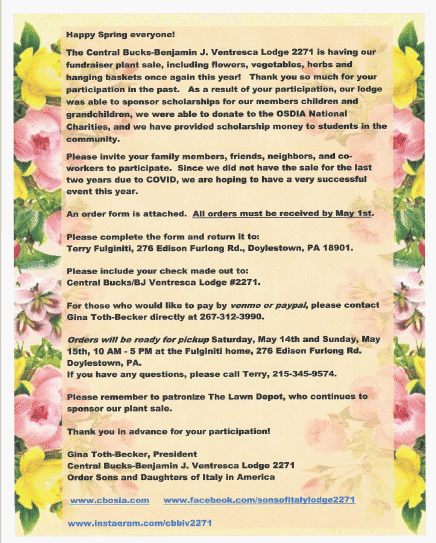 Have you sent in your 2019 dues yet?
We ask you to do so as soon as possible to avoid cancellation of your membership. The Lodge pays your dues each quarter as long as you're on our roster. Please call Bernadette Prozzillo (215) 598-7375 to report any change in your membership. Your cooperation will be greatly appreciated.
ELECTION NOTICE
The Slate of Officers for 2019-2021 is being prepared at this time. If you are interested in serving on the committee OR becoming a canidate, please let President Gina Becker know as soon as possible. The election will take place at the April meeting with publication of the slate provided by the Nominating Committee prior to that meeting. More information about the nomination of offices can be found in this month's Newsletter.
JOSEPHINE DiORIO SCHOLARSHIP
Thus far, we have supported 7 students - most through 4 years of College. Please see this month's Newsletter for more information about this scholarship