President
ORDER OF SONS OF ITALY IN AMERICA
Central Bucks / Benjamin J. Ventresca Lodge 2271



Gina Toth Becker
Vice President
Regina Creedon
Past President
Michael Toth Jr.
Orator
Fred Prozzillo
Financial Secretary
Recording Secretary
Bernadette Prozzillo
Trustees
Rick Fulginiti
Treasurer
Michael Creedon Sr.
Matthew Hallowell
Sandra Panuccio
Guard
Anthony Brescia
Historian
Editor
Michael Nastasi
Marie Brescia
Mistress of Ceremony
Virginia Yencha
CALENDAR
Carole Toth
mhbresc1@verizon.net
215-348-9598
Marie Brescia
James Stabilito

.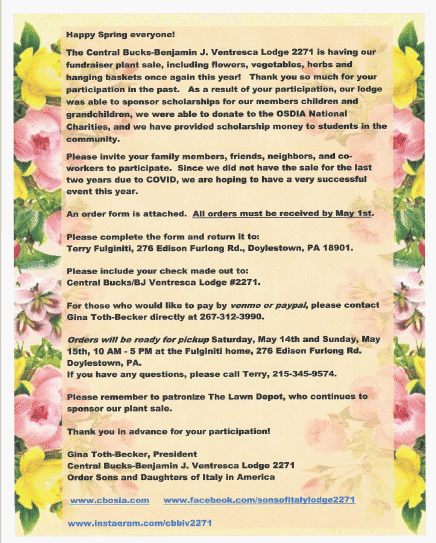 CABARET
The Bucks County Center for the Performing Arts will be offering the Musical "Caberet" at Delaware Valley University. We are attending the show as a group on July 17th and would like to know if you are interested in joining us. If so, please call Marie Brescia (215) 348-9598 and more details will be available with your call. This group always does a wonderful job and are very professional. Great location and beautiful theater. Broadway without leaving Pennsylvania!!!
Jun. 15 - Steak in the Park - Central Park 5:00 - 8:00 P.M.
Jun. 16 - HAPPY FATHER'S DAY
Jun. 21-23 State Lodge Convention
Jul. 17 - "Cabaret" - See Below
Jul. 23 - Lodge Board Meeting - Brescia's Home - 6:30 P.M.
Aug. 17 - Annual Family Picnic in the Park - Central Park - 1:00 - 4:00 P.M.
STEAK NIGHT
Mark you calendars now! Our annual Steak Night in the Park will be held on June 15th at Central Park, Doylestown from 5 P.M. to 8 P.M. Rain or Shine! Reservations are a must in order for us to have a steak for you. The dinner price is $20 per person. Please call Carole Toth (267) 222-8252 by June 10th. More information is in our current Newsletter.
PLANT SALE
Thanks to everyone who participated in our Annual Plant Sale. We are pleased to announce that $1158.85 was raised to support our various charities. At our coming State Convention in July, we will be pledging donations to the Autism and the Alzheimers Funds on your behalf.